Building an audience for B2B isn't easy.
In the B2C world, it tends to be much easier because you most likely have a product or service that people like (hopefully), and getting people to engage with something they already like really just requires marketers to be present. Show up on social media, market your product, engage with your audience.
Often, if a brand is big enough, people will automatically follow your brand on social media and/or sign up for emails. Half your work is done!
But B2B…eeeew. How do you build an audience for an HVAC supply distributor? Commercial janitorial company? Building elevator repair outfit?
Well, let's find out!
0. Get ready for the long haul
IMPORTANT: Building an audience is one of the most effective marketing and ROI driving activities you can engage in. If you don't have an audience, you have to PAY to force your messaging and offers down people's throats via advertising. This route is much more difficult and has a substantial cost to it.
With that said, what you're about to embark on is always worth it. Even if you fail. Because you'll learn what doesn't work when you're trying to build an audience.
RECORD AND DOCUMENT WHAT DOESN'T WORK AS WELL AS WHAT WORKS. Make sure everyone at your company has access to this documentation. That way, if you leave, the next person can jump in where you left. All too often, I see marketers that join a company having to start from scratch again.
So, get ready to put a lot of time into this. Expect years. You don't have to get overwhelmed by it, BUT NEVER LET GO. NEVER STOP. BE SURE TO PUT IN WORK EVERY WEEK TOWARDS THIS ACTIVITY.
1. Start with employees and maybe even family members and friends of employees
This step is really for those of you who are starting from scratch. No followers on social media. No one on your email lists. Just needing to get out of the painful "0" follower/subscriber count..

Your first job is to ask your fellow employees to like and follow your social media accounts. Try to get to double digits. See if their family members will give your accounts a follow or like. And while you're at it, ask your friends for some help.
2. Make sure you link to your social media accounts from your company website
This step is sometimes overlooked, so just check to make sure you can find your company's social media accounts by going to your company website.
3. Content Strategy: How do you make content that provides value or becomes an educational resource for your customers?
O.K., now on to the real work. To build an audience you'll need some sort of content to share and engage with people. There's no way around this part.
Quick refresher. Content can be:
Blog Posts
Web Pages
Videos, YouTube Videos
Social Media Images, Stories, Clips
Emails
Infographics
Podcasts
Charts and Graph Images
Presentations
I present this list because some people get stuck with only a few content types in their brains. It's good to remember all the forms of content that can exist.
Now, when it comes to content creation, you have to really go hard in the paint. You can't make fluff. YOU MUST CREATE CONTENT THAT PROVIDES VALUE. With B2B content you have to help your customers and/or audience:
Do their job easier
Get inspired
By providing resources that they will return to, download or bookmark
By providing important industry information (e.g. perhaps compliance updates)
Here are some ideas of types of content you can create:
In-depth, detailed how-to guides
Infographics
Statistics, charts, data they will find useful
Compliance webinars (bring in an expert to chat)
Video product reviews
Customer testimonials
The idea is you want to create content that makes people NEED to follow you. Be so resourceful and valuable, that it would be their professional detriment to NOT follow or subscribe to you.
Seth Godin points out that doing the hard work is worth it because, well, no one else will:
Dave Ramsey does a three hour radio show every day. He books theaters and has a traveling road show. He has the discipline to only publish a new book quite rarely, and to stick with it for years and years as it moves through the marketplace. He has scores of employees. And on and on. By doing hard work that others fear, he creates unique value.
With that said, start writing down content ideas and create an editorial calendar.
4. Create a distribution list
To give your social media efforts a little kick in the butt, create a list of employees, friends, past colleagues, and allies that don't mind helping you share your content when it drops.
It should be up to them if they want to be on this list. And you don't have to message them every day either. But it's a great idea to build this list and process in place so that as you create content you can have people available to help you spread the message.
For most B2B businesses, this content will be shared on Linkedin and Twitter. Sometimes Facebook.
As for email campaigns, it's a good idea to ask your team to subscribe as well. They may find the content useful, learn something they didn't know, or even share it on social.
5. Ask your customers and audience what they want
This step is for when you have some regular engagement. You have enough subscribers and followers that if you ask them questions, they will answer back.
At this point, it's a great idea to survey them to see what information they would like to consume. Repeat this step every 6 months or year.
Examples of companies that do this well
Here are a few B2B companies that create great content and have built an audience. You can examine what they've done to get ideas and inspiration.
Moz: Whiteboard Fridays
Moz provides free SEO video content that goes over specific SEO issues in detail. The team here at Judicious, Inc. was raised on Whiteboard Friday content going back to 2009!
The former CEO of Moz, Rand Fishkin, said that even though they didn't have proof for years that these videos were helping business, they eventually found out that these videos are what pushed people along to eventually becoming paying customers. And I was one of them!
B&H Photo
B&H serves both consumers and businesses, but I think they are a good example of how to build a B2B audience.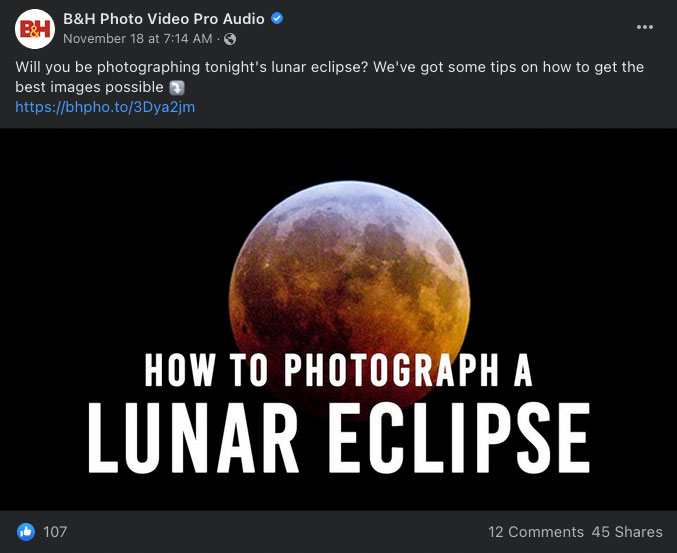 Obviously, creating a how-to article or video on how to photograph a lunar eclipse isn't easy. And that's why this content stands out. Remember what Seth Godin said?
B&H has a lot of great video content on their YouTube channel. With over 800,000 subscribers, their content effort is definitely paying off.
Grainger
Grainger is doing it right. They don't appear to have great engagement on Twitter, but of course, I don't have access to their analytics.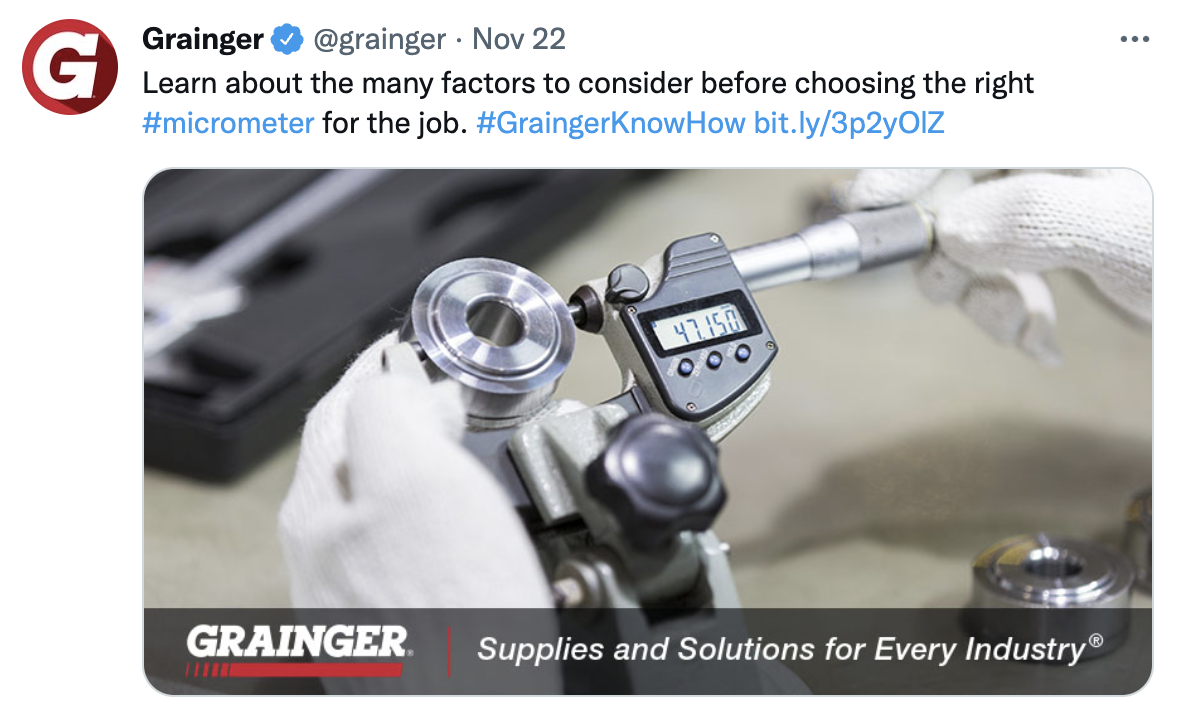 But if I was a professional that needs to know all about micrometers, I might bookmark their content because it may come in handy from time to time. They look like they know what they are talking about.
Ed Carter of Enviro-Care Pest & Termite Control Inc.
Ed is a social media hero for me. He has a local pest control company and he has social media licked.
There's no secret sauce to his method, he just posts to his personal Facebook and business Facebook page consistently.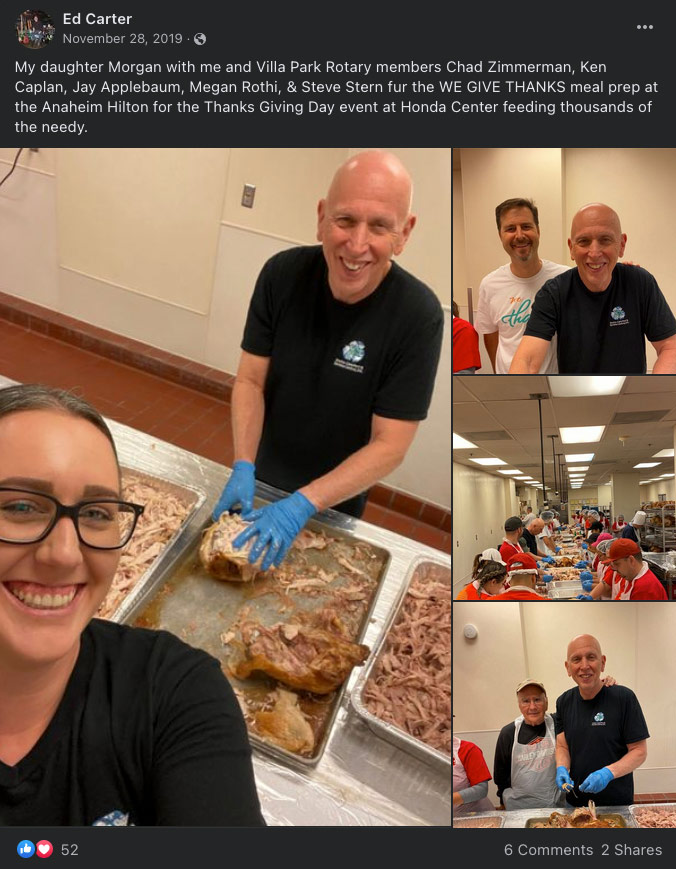 It took me 20 minutes of scrolling to get to this post. That gives you an idea of what the "long haul" means.
Most of his posts only get a like here and there. Some days he racks up 20+ engagements. But by consistently posting to Facebook he's been able to grow his business substantially. People always remember what he does, and the referrals come in.
Ed will mix in some memes and GIFs once in a while. He doesn't always talk about business on his Facebook profile. He provides a good mix of content that reflects him being human and a local business owner. And the real takeaway is he has 1,200 friends on Facebook and 570 people following his business page. It's not an astronomical amount, but notice how you don't need a gigantic audience to find success.
Sometimes you can have fun with content creation
Some companies are good at humor. It doesn't come naturally to all marketing departments. But if it fits your company culture, it can be a great play. Here's a good example from MailChimp.
Closing thoughts
Building an audience comes down to content creation. It's probably going to take videos, blog posts, tweets and Facebook posts to get there.
At Judicious, Inc. we always stress starting with written website content first. Simply because it will:
Get search engine traffic, which means people will continually find out about your brand and your content.
It can be repurposed infinitely for your other marketing campaigns (social media, email marketing, etc.)
If you're having a hard time getting your content in front of people at first, feel free to give it some paid promotion to kick start your adventure. However, remember, on social media you are free to engage with others, which can lead to people learning more about what your company or brand is up to. It's a good way to drive people over to your accounts.
All of this is a lot of work. As a message to company CMOs or people in charge of marketing: Don't expect to get anywhere with a 1-2 person marketing department. You'll burn people out. One of my greatest success stories was being told to only focus on the KISSmetrics blog back in 2010 and that move alone created a 1 million reader a month blog. If I had remained in charge of all marketing, I probably would have spread my focus and energy too thin and yielded very mediocre results.
If your company needs help with written website content, please feel free to schedule an appointment with us below.
About the Author
Sean Work is the founder of Judicious, Inc. You can follow him on Linkedin here.