It's far too easy to waste years of one's life going to business networking events and not get anything out of it.
Maybe you connect with someone once in a while and do a phone call.
But for a lot of people, most of the business networking they do doesn't provide any substantial return.
In this post, we're going to provide you with 3 simple steps to turn business networking into a machine for greatness. This will help you with your online and in-person business networking efforts (regardless of pandemics!).
Step 1: Connect on LinkedIn
This is the first step because not only is it the easiest thing you can do, you'll get to market to that person in the future.
What do you mean, 'market to them?'
We'll LinkedIn allows you to post updates that your connections will see. If you have a good blog article you've written, company update, letting people know about new promotions – you can post those to LinkedIn once in a while.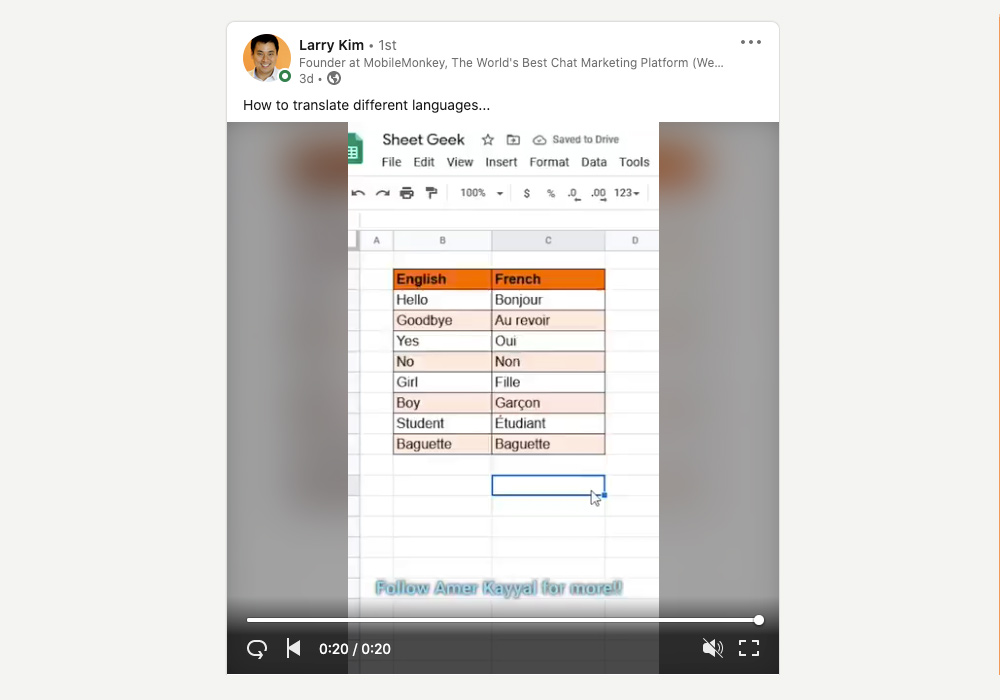 Larry Kim is an excellent person to follow on LinkedIn. He provides updates that provide value to his audience.
At Judicious, Inc. we like to call these marketing touches. Basically, people will get a reminder of what you or your company does which can pay dividends later when one of your connections remembers you at a later time and refers you or your company to someone else. It's a really simple marketing activity where the effect multiplies as you grow your LinkedIn connections.
Connecting on LinkedIn has a second advantage. If you ever need to get a hold of that connection, sending them a LinkedIn message is usually a surefire way to get a hold of them.
If you don't have a LinkedIn account, get one here.
Step 2: Add people you have met to your CRM
If you don't have a CRM (customer relationship management software – aka contact database), we recommend using HubSpot's free CRM.
A CRM will not only store all your contacts' information, but you'll be able to create specific lists of contacts and email them all at once.
Be sure to add:
Name
Phone Number
Email Address
Company Website
Notes about how you met, what you talked about, things you have in common
Now, some of you may be going, "HEY, I don't just add any person to my CRM!". Understood. In that case, consider entering the person into an email list that jives with your current marketing strategy. Sending out occasional emails that remind people about what you or your company does is still a good marketing practice.
Step 3: Schedule a phone call or Zoom meeting
This is the step that most people don't bother doing. But it's the step that yields the most opportunity.
You don't have to schedule a meeting with everyone you meet. But it's a great idea to schedule meetings with people that best complement your business. Usually, people who serve the same type of customers as you do but aren't necessarily in competition with you. For example, if you're a wedding photographer, someone who bakes wedding cakes would be a great person to do a follow-up call with.
The most important part of this step is to go into the meeting with the intention of LISTENING. Ask the person what kind of clients or businesses they'd like introductions to. Ask about their family and hobbies. Take careful notes. Over time, these notes will come in handy any time you need their services or you have someone that needs a referral. Use your new connections as referral sources if you feel they will be a good match. This is how business networking pays off. By helping others, people will return the favor.
Do I do this process for everyone I meet?
This is the million-dollar question.
You can network and do phone calls/zoom meetings until you're blue in the face. It's entirely possible that most of the hours you spend networking won't provide a return on investment.
The smartest thing to do is to focus on networking with businesses that complement yours. However, it is possible that by being the local social butterfly, you'll make incredibly valuable connections with people and businesses you'd never think about networking with. All you can do is jump in and create your own luck.
So what are you waiting for – get networking!