We recently asked Jahnavi Ray a few questions about demand generation and how to do it well. Read her responses below.
What is demand generation?
Demand Generation is the process of driving awareness and generating interest for a product or a business in the target market.
Demand could be in the form of leads and opportunities, with the end goal of revenue.
The process starts with identifying who we are going after. To begin with, understanding their behavioral traits in each stage in the buying cycle, their pain points and triggers, and then going after them with high-quality targeted content. Relevant pain-point-centered content is really critical in driving demand, and in moving the 'unawares' to the 'product aware' stage.
Sometimes this could also entail educating them about their own pain points at various stages in their lifecycle journey. They are then gradually nurtured into qualified leads and opportunities for sales to close.
Unlike lead-gen, where the goal is to capture contact details by serving value-added content and then passing it along to sales, the process of demand generation goes all the way through until the customers' need for the solution has been served by the organization. Demand generation starts with building brand awareness, establishing trust, creating interest in the product, and driving engagement.
The goal of demand generation campaigns is to fill the funnel from the top and keep them engaged until they are ready to convert.
An ideal B2B demand generation strategy includes strategies for acquiring leads as well as providing information to these leads throughout their journey to becoming loyal customers.
How do you build a demand generation engine?
1. Goal
I start with the understanding of the GOAL, as that defines the entire course!
Are we going for brand awareness? Lead gen? Event promotions? Increased engagement? Or brand repositioning?
Whatever the vision and the purpose is, the demand gen tactics are customized to suit the needs.
2. Target Market and Persona Research
The next step is figuring out WHO we are going after.
They are the markets and key personas which require thorough research and understanding of their trends and behaviors to find out what keeps them up at night.
Understanding who is the buyer, the influencer, and the decision-maker in the buying committee.
3. Channel Research
We want to know where they hang out. This can be a combination of traditional and unconventional channels that are decided based on the insights discovered in the target market and persona research, budget, and CPL projections.
4. Content Research
We want to know what they read, the trends that get them excited, and key conversation starters in their community – This helps us shortlist the assets and calls to action we would like to push.
5. AND THEN We launch…
…the campaign with all the required pieces of the puzzle.
Here's what a demand gen campaign development process looks like visually – I had created it for an internal presentation: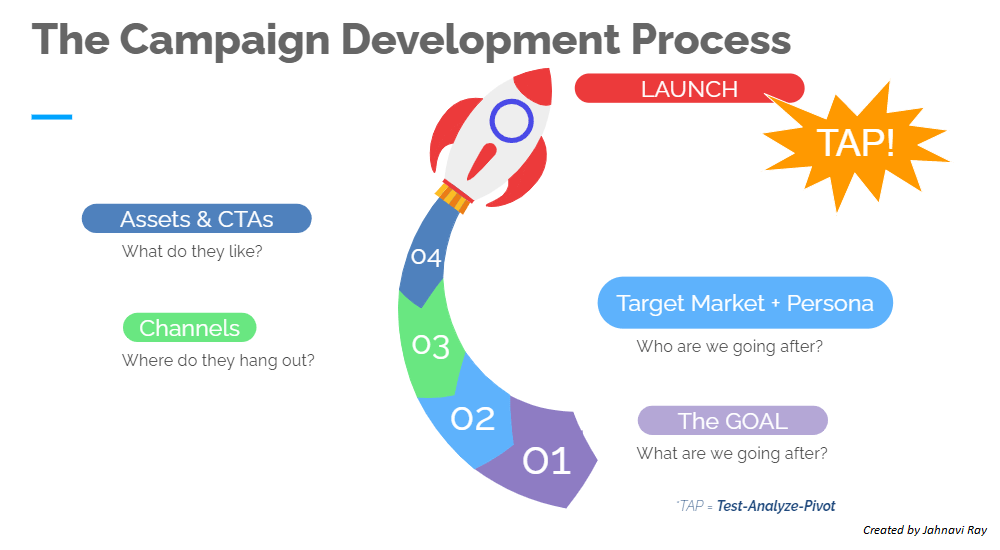 Here's a snapshot of how my demand generation engine looks.
There are various cogs in the machine that need to work in sync in order to achieve maximum impact.
For mature companies with existing processes, tools, and systems in place, I set up a demand gen engine as shown in the image.
It is comprised of 3 core strategies >
1. An 'always-on' strategy that keeps the lights on throughout the year. The objective is to stay on top of the minds of our target audience, with a focus on brand awareness and engagement through top-of-the-funnel content.
2. I recommend organizations to run One-to-Many ABM campaigns that are less resource-centric with lower cost-per-lead. That enables us to target a larger audience pool while still leveraging the hyper-focused persona painpoint messaging.
ABM is account-based marketing. It is the process of targeting sales-focused accounts with hyper-focused, persona-painpoint content, with a multi-channel, multi-touchpoint approach.
3. The third strategy works around the One-to-One ABM approach. I top up the above 2 with high-value networking opportunities with C-level executives in target accounts.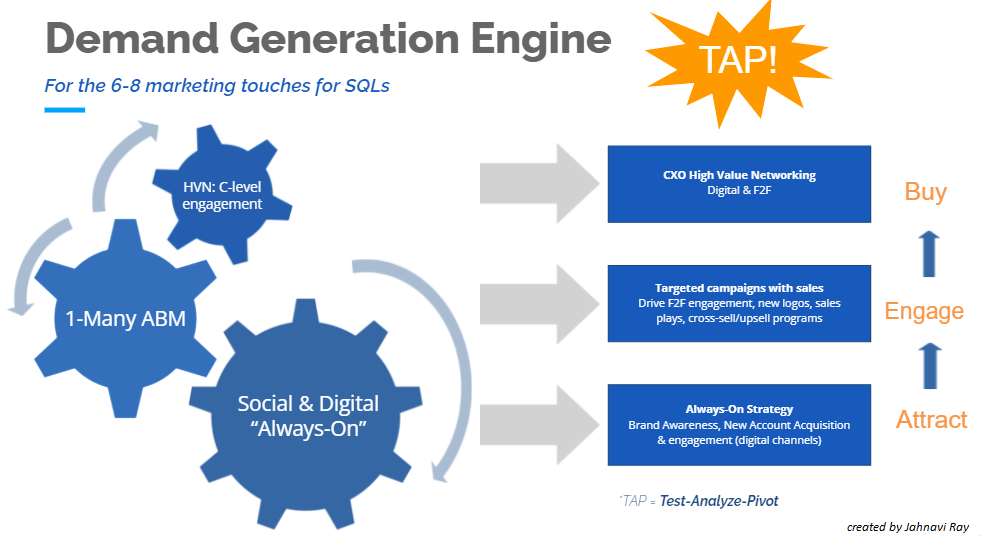 My mantra for success: TEST ANALYZE PIVOT (TAP!) each step of the way.
TEST every message, every CTA, every channel > ANALYZE the results, find out what worked and what didn't, what kind of competition we met, etc. > PIVOT if something is not working out.
What are the top 3 problems you see most businesses have when it comes to demand generation?
1. Lack of thorough understanding of personas and target market
Companies usually limit themselves to exploring only the external pain points of their persona related to their products. However, the decisions for purchasing your product are made by humans with real problems. In persona research, I strongly recommend uncovering internal and psychological drivers, then leveraging that in campaign content to better relate to your buyers. Understand the underlying problems in their lives and how you could make their job easier.
2. Not enough attention is paid to content!
It might sound cliche but content will always be the king. If the content is unable to offer value, there will be poor engagement, which will result in leads losing interest. A good campaign needs compelling content for each persona, at each stage in the buyer's journey.
3. Only relying on one channel
We are in an era of multi-channel, multi-touchpoint marketing. We should be using all the channels where our personas hang out, build a series of relevant and engaging content, then serve it to multiple stakeholders for a cohesive experience reinforced at every touchpoint.
About Jahnavi Ray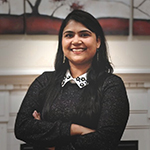 Jahnavi is a data-driven growth-mindset marketer with 14+ years of experience across multiple geographies in the B2B SaaS space. She currently works as the Head of Growth Marketing for Launchpad Technologies, a B2B Integration and Staff Augmentation company where she is responsible for full-funnel strategy and supporting sales objectives.
She loves talking about everything marketing, and enjoys mentoring startup CEOs and fellow marketers on the following topics:
Integrated demand generation strategies
Account-based marketing plans (ABM)
Events, webinars, and conference planning for qualified leads
Content Strategy
Buyer Persona Profiling (a step beyond ICP)
Drip and Nurture Strategies (based on awareness vs. conversion goals)
How to get ROI from your marketing agencies
Inbound and Outbound strategies
Marketing team structure and hiring
Jahnavi has a Masters in Management, with a certificate from Harvard in Leadership.
When Jahnavi is not working, she enjoys spending time with her family. Her personal goal for 2022 is to finish Yoga Teacher Training so she can volunteer for a seniors program to help them connect with their health. Contact her on LinkedIn at https://linkedin.com/in/jahnaviray or by email at [email protected].
Image Credit: "Want" Photo