If you're going to embark on content marketing and you're not sure where to start, or if you don't feel confident launching an all-out content marketing campaign, then we have some simple advice for you.
Start by building out your FAQ content.
FAQ content can provide a ton of highly targeted traffic to your website. In many cases, it should be the first content marketing campaign a business undertakes. Here are three great reasons why you should invest in a well-thought-out FAQ section:
It can reduce support costs and customer service hours.
It can attract qualified buyers and/or potential customers to your website.
It can provide a great employee resource, which can reduce confusion and inefficient communication.
But let's first start with the wrong way to make an FAQ section.
Don't Make Your FAQ One Page
That means one webpage with short answers. Nope. Don't do that. Below is an example of what not to do: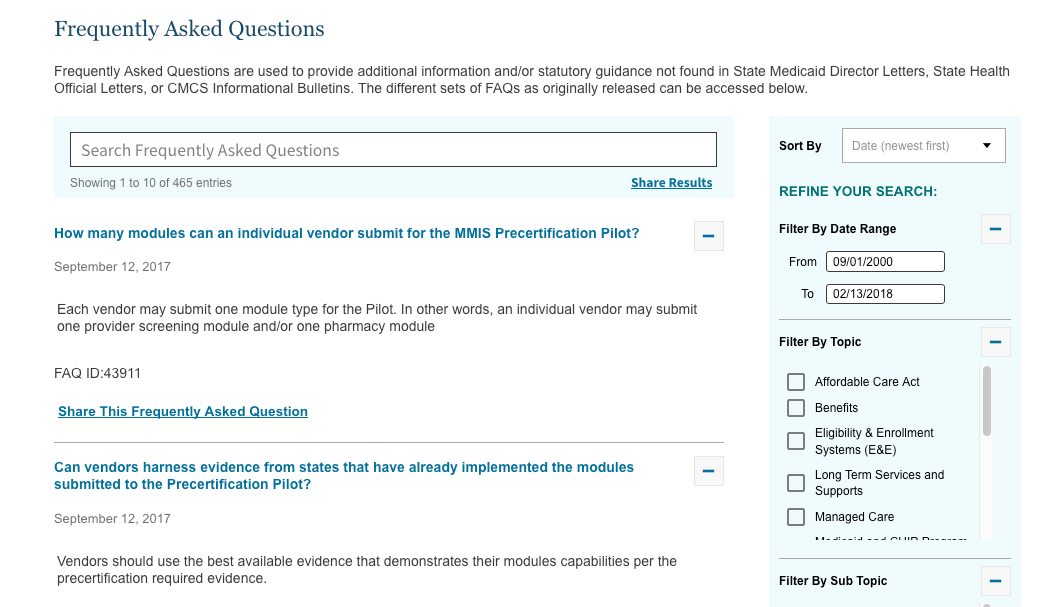 This is from the FAQ section of Medicaid.gov. As you can see, they've answered each question on the same webpage. And the answers aren't that detailed either.
The reason you don't want to make your FAQ section one page is you're going to lose out on a lot of good search engine traffic using one webpage. What you want to do is break out each question and corresponding answer into its own webpage.
That means create a unique URL for each FAQ question. Dedicate an entire webpage to answering the question as thoroughly as possible. Use images (or screenshots) and video if you can. Anything that helps the visitor – whatever makes it easier for them to get a clear answer to their question – do that.
Common sense, right?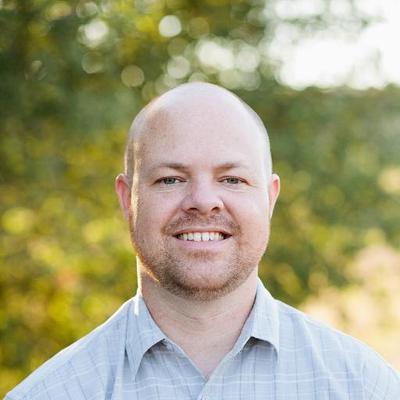 Would you like me to take a look at your website? Email me below and I'll look around and tell you your biggest SEO mistake for free. – Sean Work, Founder of Judicious Inc.
Here's a Good Example of a FAQ Section Done Right
The FAQ section shown below is from sketchapp.com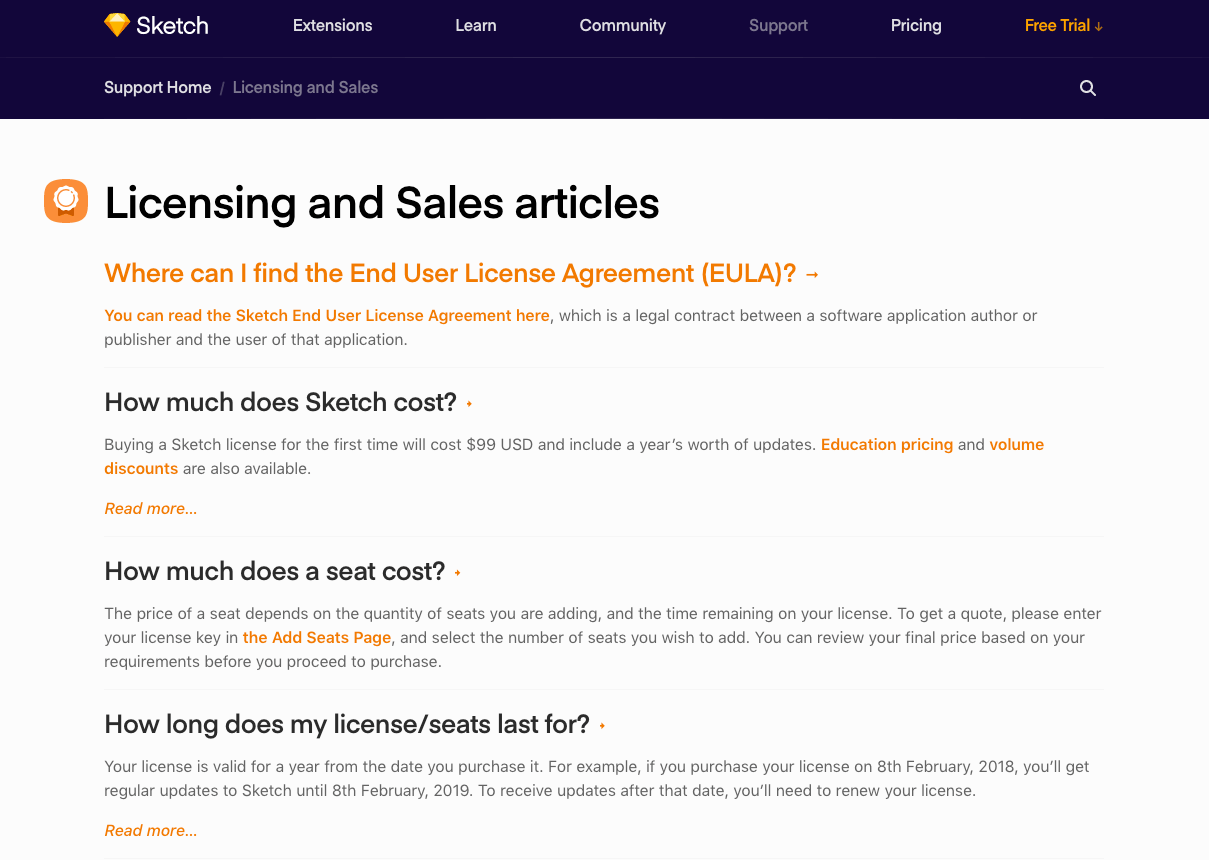 What they have done is make each question a link to a webpage where the answer is explained in great detail. This is what you get when you click through to the answer: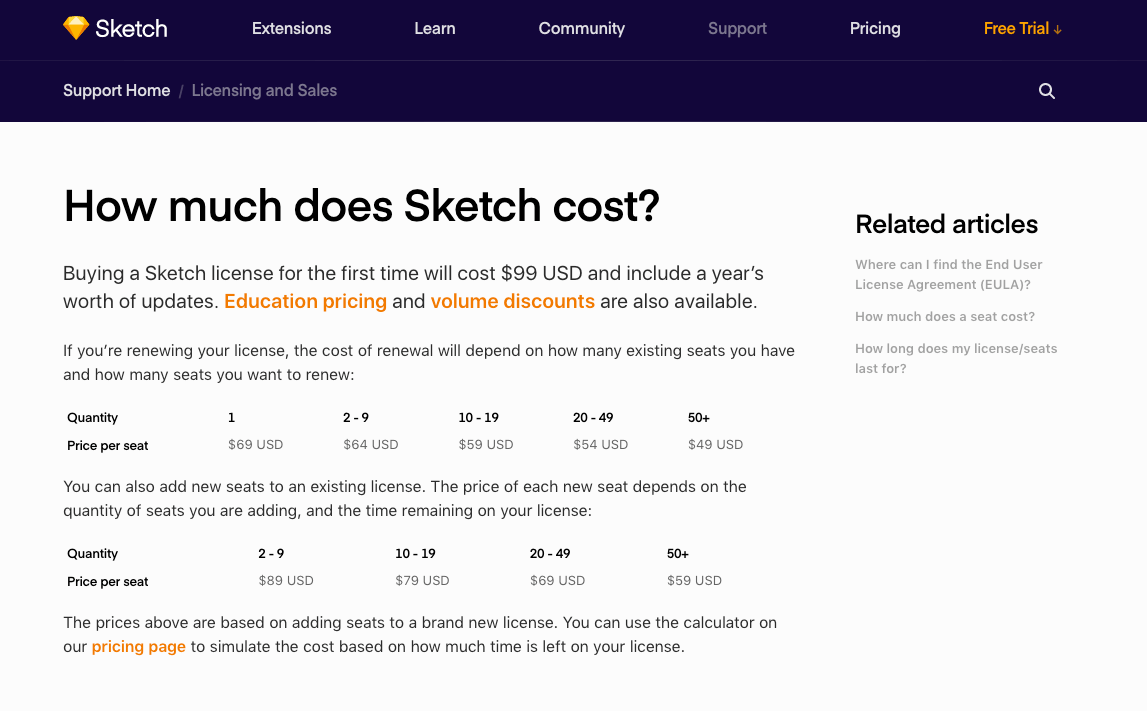 And if you Google "How much does Sketch cost?" (in a private window), you'll see that the page is the first page listed in the Google search results: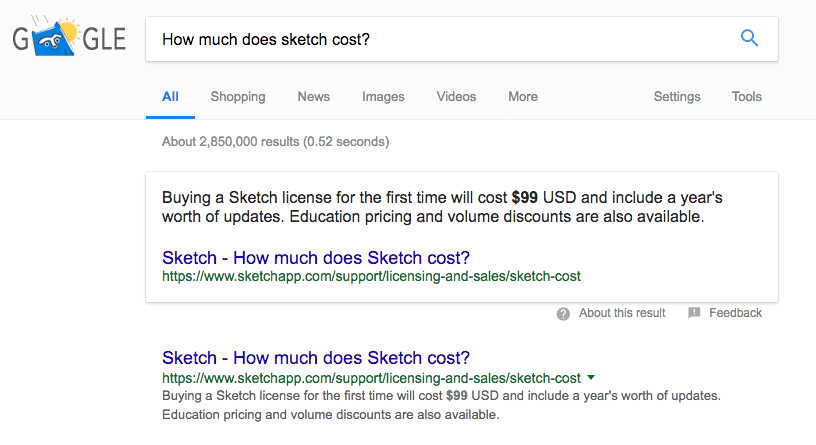 As you can see, for a lot of questions your customers may have, this FAQ structure we're recommending will keep them from having to do a lot of hunting :).
What About Blog Content That Serves as FAQ Material?
This is a very natural thing to happen. A lot of times, blog articles serve as good FAQ content. In this case, you can simply link to these blog articles from your main FAQ webpage.
Does the URL Structure Matter?
Not really. However, it's a good idea to make "friendly" URLs. For example:
https://pet-monkey-website.com/how-much-is-a-pet-monkey
https://pet-monkey-website.com/is-owning-a-pet-monkey-dangerous
https://pet-monkey-website.com/can-i-return-my-pet-monkey
These example URLs are human friendly. They are easy to read and instill trust in the searcher. This is generally the best approach when it comes to crafting any URLs for that matter. However, sometimes your content management system or website just wasn't set up for friendly URLs. It's usually a bad idea to try to change your URL structure for purely aesthetic reasons. You'll end up hurting your search engine optimization for your entire website (unless a professional SEO aids you along the way).
How Do You Come Up with FAQs?s?
Besides creating pages from the top of your head (which isn't a bad place to start), you can always collect FAQs from:
Clerks, support staff, customer service reps – the people on the front lines are always getting bombarded with questions.
Your sales team! Talking with them at any time is a great idea.
Website feedback tools like Qualaroo or Survey Monkey
To take this further, collecting visitor and customer feedback continuously is certainly a good practice. Having feedback is key to improving any business. Consider putting a system in place if you don't already have one.
Conclusion
If you don't have time to build out a massive FAQ section, it's OK to start off with a one-page section. It's better than nothing. The answers will most likely get indexed by the search engines and will help humans as well.
However, you should plan on expanding your FAQ section into more detailed individual pages. If it's easy for you to make new webpages, it's low hanging fruit that should be tackled.