Are you wanting to build a decent website on your own? With the right DIY website builder, it will be a breeze. 
Whether you're a business owner, writer, painter, singer, or consultant, you can build your site without coding. Thanks to these DIY platforms, technological barriers can't keep you from going online anymore. 
Remember – it takes about 0.05 seconds for a visitor to form an opinion about your website. So even if you're a newbie, you must use something decent. That's where DIY website builders save the day.
However, getting the best DIY website builder can be confusing and tricky. In this guide, you'll learn the A-to-Z of DIY website builders.
Let's go:
So what is it?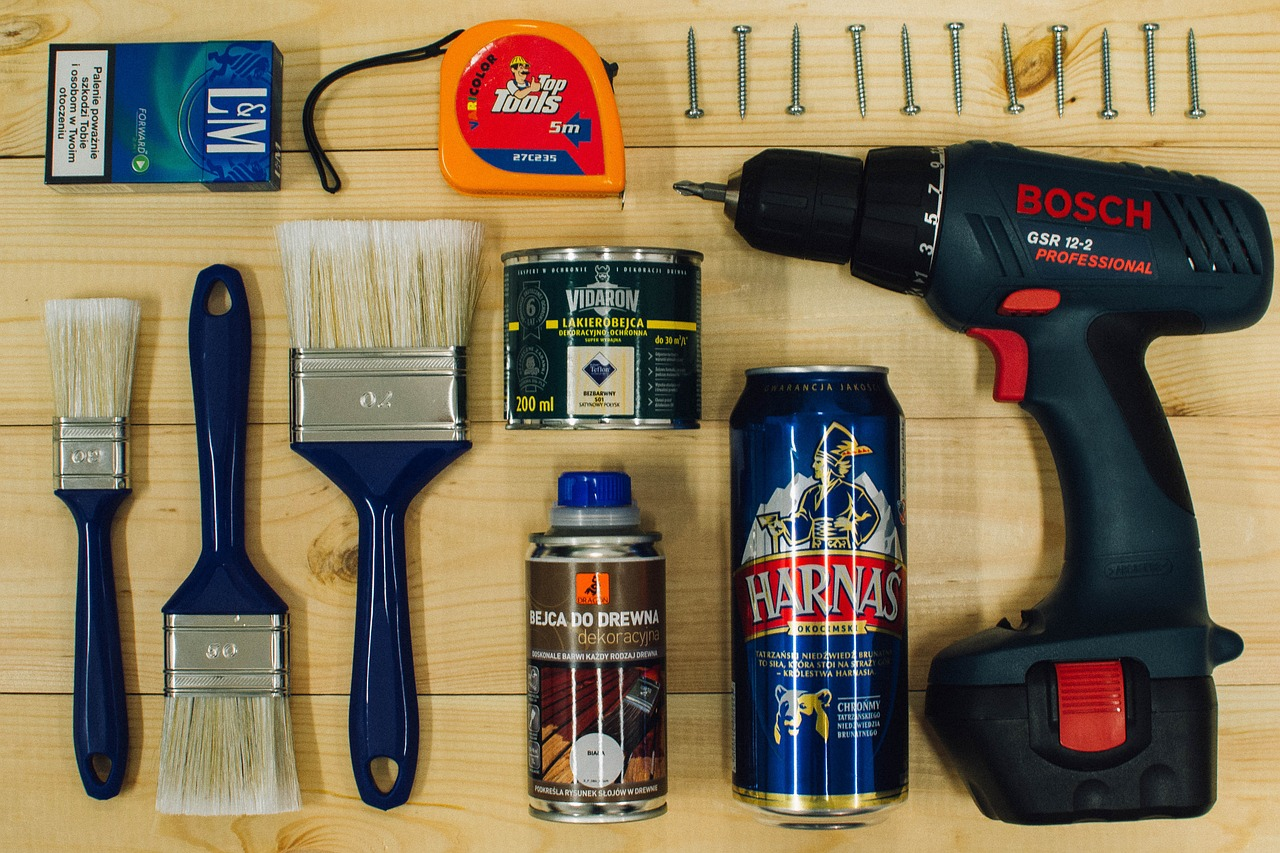 In the 1990s, you had to code websites manually with HTML. 
Then came Dreamweaver – one of the first platforms that helped seasoned developers as well as non-coding newbies. Fast forward today – we have far advanced technologies, allowing us to focus on the bigger picture of marketing the business.
These advanced DIY website platforms run on your internet browser – no downloads required. That means, as long as you have the Internet, you can work on your website(s). 
With these builders, you can see all your changes and edits, and govern the website appearance at all times – so no surprises on your final version online. In short, these website builders are What You See Is What You Get (WYSIWYG) tools.
This commercial by Webflow shows you how DIY website builders work
Who Can Benefit From DIY Website Platforms?
The great part – DIY website builders are useful for everyone – newbies as well as veterans. And it's not just for business owners. Websites for personal use also find these platforms handy.
With the wide-ranging array of templates, you can build several sorts of websites. Need a website for your plumbing business? Or your bookkeeping services? You got it. How about simple blogs? Or your photography portfolio? They got you covered.
Plenty of DIY platforms specialize in the e-commerce space: Shopify and BigCommerce, currently being the top-tier builders. However, platforms like Sellfy are always giving them competition. With such platforms, you get the whole framework required to launch your online store.
How Much Can Do-It-Yourself Website Builders Help?
DIY website builders let you focus on design and function, and that's what makes them great. 
And the main reasons businesses use them is to:
Save creation and maintenance cost
Avoid technical learnings and errors
Save time
They come in 2 forms:
Drag and drop: You can build websites in minutes with drag-and-drop editors. As simple as moving files and folders on your computer – you just have to place the elements where you want.
Generated: Such platforms ask you some questions, then create a website tailored to your needs. Although they also let you customize the outcome, add or remove elements, they tend to be a more rigid, done-for-you experience.
Also, DIY website platforms help you manage SEO (Search Engine Optimization) in the backend. Helping your site rank well on search engines. Many also show analytics, helping you see:
Website visitor count,
Website visitor source and,
Website visitor behavior
Judicious, Inc. excels at getting websites more Google traffic. If you would like to learn more about our services, please schedule an appointment below:
Website Builder Features You Need To Consider
A website has to be attractive and well-functioning. And that depends entirely on the website builder features available.
Below are the top 13 important features you should seek in a DIY website builder:
1. Ease Of Use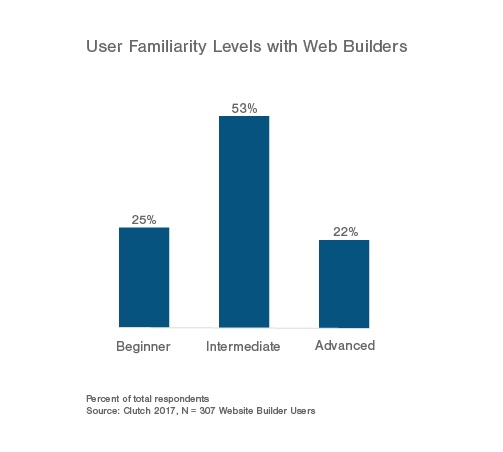 Only 22% of DIY website builders are for advanced users. If you're not one of them, focus exclusively on the ease of use.
Remember, you chose a website builder to reduce the website creation challenges. So step away from the ones requiring you to go to MIT.
DIY platforms must be straightforward and simple. The interface must be user-friendly, and the learning curve must be small.
Drag-and-drop editor and question-and-generated are two good examples. Picking your website images, icons, main colors, navigations style, typography, logo maker, curated color palettes – everything should come easy. Real-time visual editors are a good sign too.
Switching between layouts, templates, updating your homepage, navigating the dashboard must be simple. 
Plus, it should have handy guides and tutorials on how to create websites. Even better if the guides are interactive.
In a nutshell – it should be a breeze to work with.
2. Cross-Browser Compatibility

Source: W3Counter
Due to the diverse browser usage, cross-browser compatibility is crucial. Whether your visitors use Google Chrome, Safari, Internet Explorer, or Firefox, you have to provide them the same information and decent experience from your website. 
The problem is – all technologies aren't fully compatible with one another. Browser features differ. Something looking decent on Chrome might fall short in Firefox. This often leads your visitors to your competitor's site.
While your website doesn't have to look the same everywhere, it must look decent. Luckily, you don't need to create different versions of websites for this. Just pick a website builder with good cross-browser compatibility.
3. Responsiveness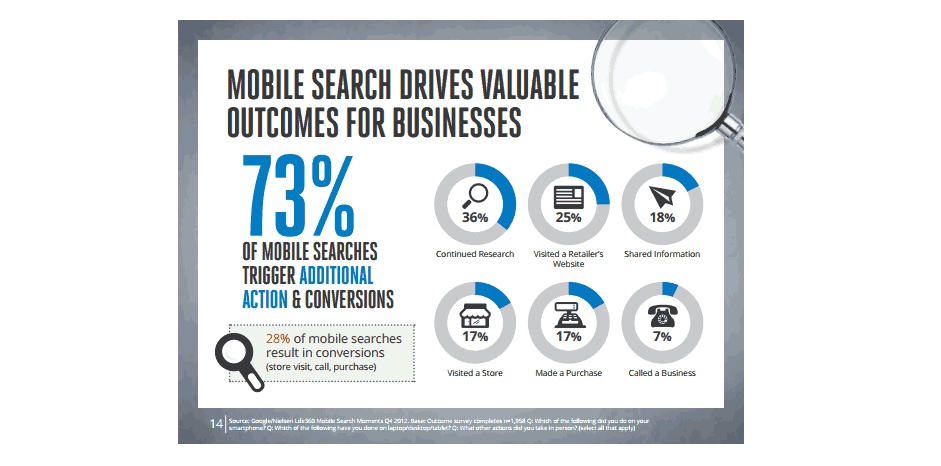 Source: Rapid Boost Marketing
Also, over 60% of online searches are from a mobile device. This means, without a responsive website, you'll look outdated (and people may think you're out of business!). So your website must look amazing and perform well on all devices – phones, tablets, laptops and desktop computers. 
With responsiveness, all pages and content will be flexible and easy to navigate – regardless of the devices and screen resolutions. This means minimum scrolling and resizing on your reader's part.
Responsiveness also offers a positive image of your business and brand. Quality businesses get return visitors. Which directly impacts your conversions.
Responsive sites load faster, have a lower bounce rate, make social sharing easier – which enhances your audience. You just need to maintain one site. No mobile application is needed.
In fact, responsiveness now is also a significant Google ranking factor.
4. Pre-Formatted Web Page Layouts
Using good-looking pre-formatted layouts, you can build your unique website within minutes. Think of it as a head start when it comes to choosing your font style, font size, and color palette combination.
Since they come with placeholders for text, images, and other elements, you can just replace them with what fits your taste.
5. Wide-Ranging High-Quality Templates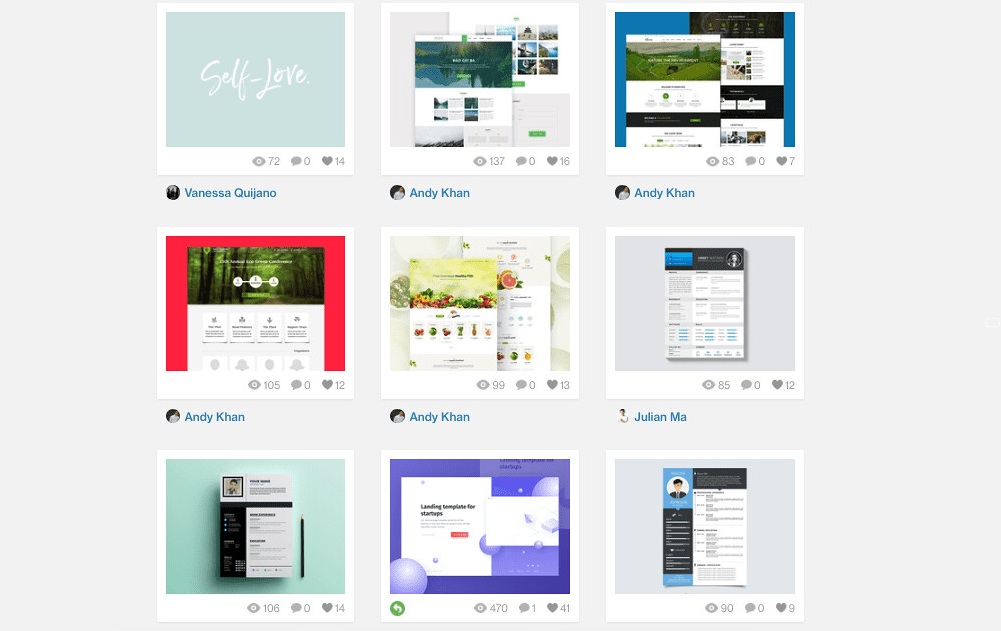 The wide-ranging quality themes are worth considering too. Don't forget you need to stand out with your website, not build another "me too" design.
When developers create a template, they keep the wide usage and audience in mind. Hence, templates tend to come with a host of built-in functions, options, and widgets. Making your website building process more flexible and easier.
Also, 75% of users make judgments about a company's credibility seeing their website design. Meaning, landing a solid first impression can get you more business – and there won't be a second chance.
So keep your eyes out for a DIY website platform offering clean and modern templates.
6. Custom Domain Name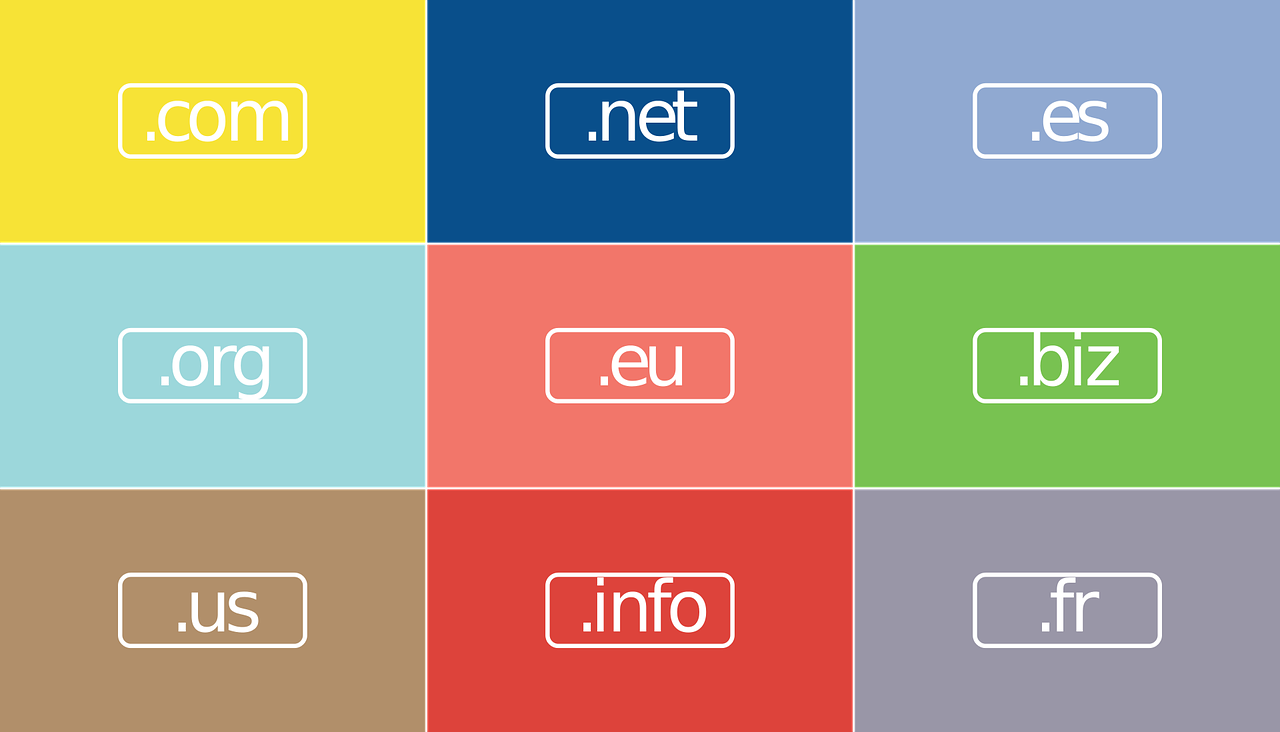 Does your DIY website builder platform allow custom domain names? Luckily, most builders do. In fact, the majority of DIY website building platforms also add a free 1-year domain name when you buy their service. To continue, you need to pay renewal rates.
Having a custom domain is inevitable if you want to come off serious. It enhances recognition, boosts credibility, and gets you found online more easily. Also, you can publicize your domain name with ease, instead of having to use a long name.
So ensure if your website builder allows this or not.
7. Form Builders
You need forms on your website to interact with customers. Good DIY website builders allow you to customize your form fields to your needs. Such customization allows you to create subscriptions, contact forms, and registrations.
Using forms, you can gather information from your visitors, or opt them in on your newsletter. It also gives visitors a way to ask questions, file complaints, and give compliments.
So, ensure your website builder doesn't lack forms.
8. Social Media Integration
Your social media channels should help promote your website smoothly. Unfortunately, due to no social media integration, a lot of businesses miss out on potential impressions, engagement, and conversions.
It gets customers involved in your content distribution and promotion. Once they share / like you on social handles, you get better reach and more revisits. Later on, you can promote your informative articles, customer events, or special promotions too.
Digital stores with at least one social account generate 32% more sales. Simply put – social media integration helps you slice through the noise and grab the reader's attention.
Hence, consider social media share buttons and integration features before choosing your do-it-yourself website builder.
9. SEO Integration
Each day, 3.5 billion Google searches are done. What's more, Google search count increases by roughly 10% per year.
So there's no way around SEO when building your business. Quality DIY website platforms give you several SEO options. For example:
Meta keywords
Meta descriptions
Sitemap generation
Webmaster tools integration
These will help you rank you high in the SERPs.
10. Website Analytics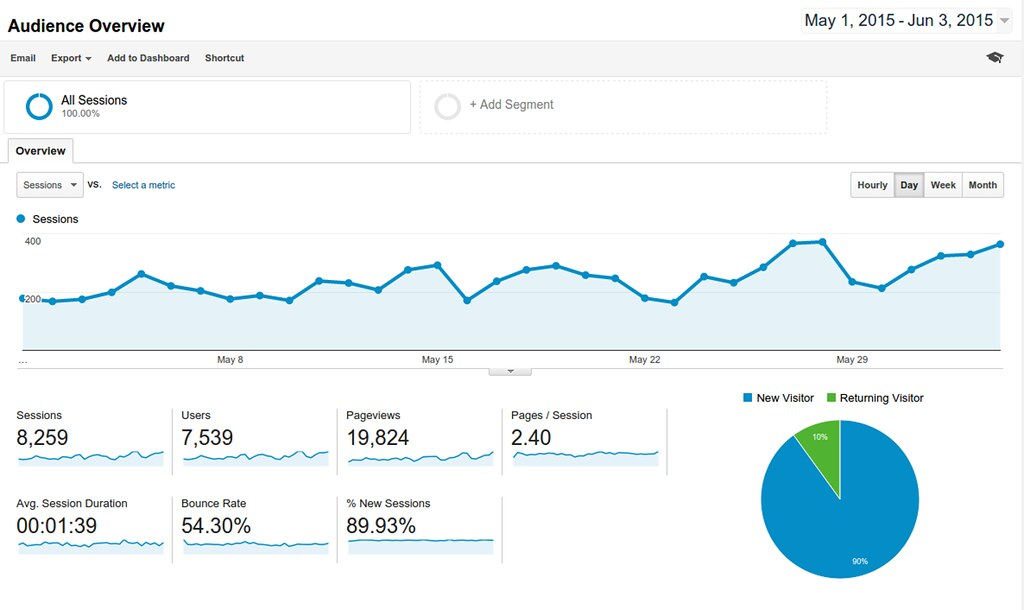 Web analytics offer accurate reports and analytics on how your website traffic behaves on your site, what's their age, location, gender, how they got to your website (traffic resource), the most famous content of your website, your conversion rates, etc.
Using these, you can create data-backed business strategies and scale your business faster. Also, such data helps you enhance user experience.
So when you choose a DIY website builder, go with one offering web analytics. It might be either the 3rd-party integration, like – Google Analytics – or an inbuilt solution.
11. Image Galleries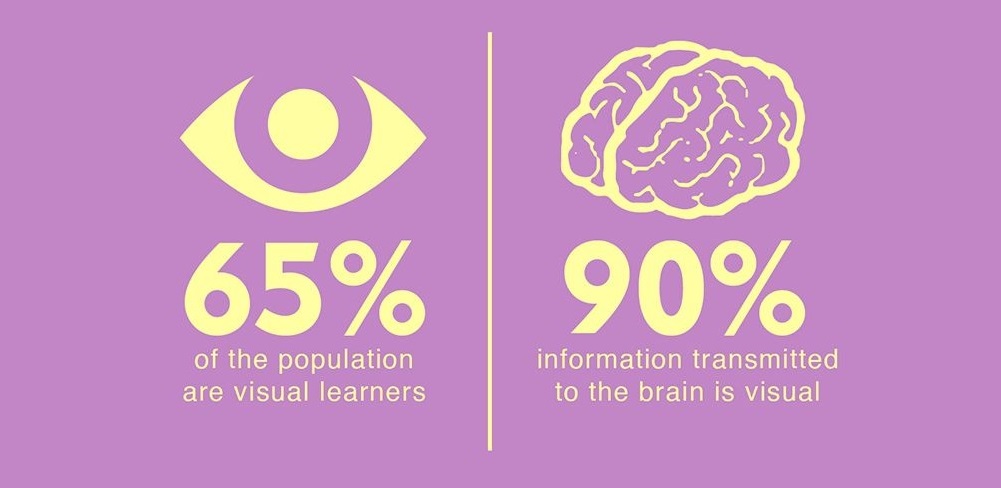 65% of people are visual learners. This means they learn better by seeing. And it's crucial to utilize this for your business.
An image gallery holds the potential to enhance your client base instantly. With images showcased, you can boost website efficiency and interaction. They also add life to your site's content. 
If you want to showcase your products / services, images are your go-to. Images create trust, and people remember it better too. You can also showcase past work, skill range using images. Images can also help as a form of customer review. Images of impressive work for clients / customers can also encourage new visitors to reach out.
DIY website building platforms offer different sorts of galleries. General format options might be: grid, slider galleries, and carousel. However, galleries alone won't do.
When choosing your website builder, remember that the image editing option is a must. It'll let you rotate, resize, add, and crop image effects straight from the editor.
12. eCommerce Solutions
If you want to sell products on your website – digital or tangible – ensure your website builder has eCommerce tools and solutions. The website needs like; store creation, landing page creation, product page creation, categorizing, etc.
Some website building platforms provide a simple inbuilt online store. Some offer 3rd-party integrated solutions. Some also have eCommerce-dedicated builders that allow you to create an online store using all the advanced eCommerce apps and tools for coupons, taxes, shipping, and so on.
13. Professional Customer Support
If you're just starting, chances are, you'll require professional support. In fact, professionals need some help from time to time. See the options they offer at customer support.
Is it free?
Available 24/7?
Live chats available?
Phone calls allowed?
What about emails?
Customer reviews can help you understand the satisfaction as well. So keep your eyes out for these when choosing your website builder.
How To Choose The Best DIY Website Builder
The builder you choose will dictate both the quality of the final outcome. A wrong choice might end up wasting time and energy – giving you a gibberish outcome. 
So when selecting a website builder, it's paramount to know you're not just getting good value, but a feature-rich builder that'll help build professional-looking, well-functioning sites too.
However, with such wide-ranging options and features, picking the right builder is easier said than done. And even though selecting a website builder doesn't pose a risk nowadays, here are some things to keep your eyes on:
Free Trial: Almost all DIY website builders have a free trial period (including some limitations), before asking for a long-term commitment. Some also have a 30-day money-back guarantee, some 90. For instance: Squarespace has a 14-day free trial, however, after the end of the period, you can't edit your website without upgrading to a premium account. 
On the other hand, Weebly and Wix have an unlimited free trial – you can also make your site go live using the free trial. However, they will give you a Weebly/Wix domain. So ensure you try out your builder first before committing.
Price: There are several options in the market, and the varying prices are a point of concern. In short, DIY builders are expensive only if you opt for the expensive options. For a basic site, you just need to pay for the basic plan. Advanced resources will cost more. 
So when shopping for a website builder, take your time, do your research, ask what you need, and then make your move. The same platforms have multiple packages, so think through which features you need and pick accordingly.
Support: Ensure you have proactive support, so you don't have to battle technical issues. Check the sort of support your builder provides: live chat, emails, phone, forums are a few examples. 
What are the support hours, and how do they operate their support department? Can they provide support through multiple channels? Testing out the support is a good idea before getting a paid plan.
Domain name: Ensure your website builder lets you connect domains you bought elsewhere. Even if they allow you to register a new domain, the previous feature is important.
Features: With so many distinct ones to pick from, how do you tell which features you need? Here are some main ones you might want to focus on: responsiveness, SEO features, social integration, customization options, quality blogging system, etc.
Easy-To-Use DIY Website Builders
The following platforms don't require any coding experience. Let's dive in: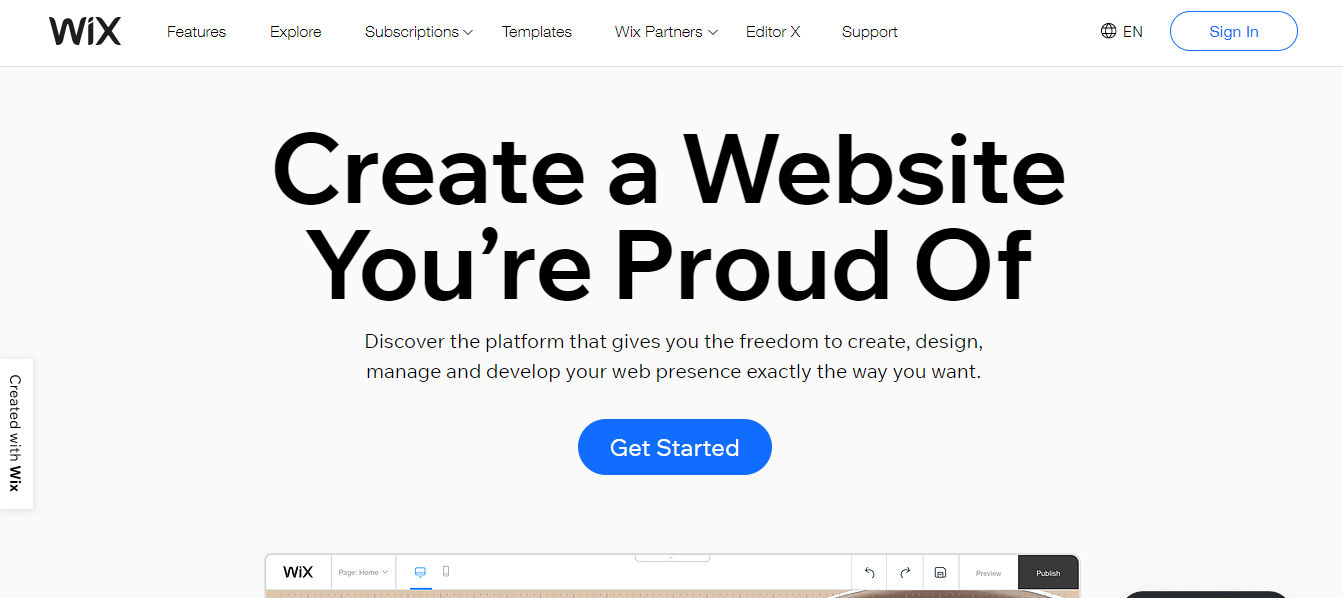 Wix is famous for their top-notch drag-and-drop feature. It has hundreds of free templates. They give you their own domain names and web hosting (free & paid). For extra functionalities like photo galleries or eCommerce, the App Market does a good job.
The platform is suitable for restaurants, small businesses, artists, and online stores. Plus, they come optimized for mobile devices. It has an easy-to-understand editor. If you get stuck, the FAQ section is there to help. It's a great fit if you're just starting out.
You can use Wix free version as long as you want. For professional features, choose from the premium plans – from "Combo" to "Business VIP." The cheapest ad-free, domain-included plan is $14 a month.
Besides professional-looking designs, you also get pixel-perfect customizations. You can adapt to the mobile-friendly version individually. What's more, you can embed videos in the background, and even upload your own fonts to the Wix editor.
They have considerable SEO capabilities. They let you: edit page titles, alt tags, meta descriptions individually. They also support 301 redirects. However, Wix changes image names into some code, which isn't the best for SEO. If you're starting out, SEO wiz (a guided tutorial) can help you.
The SEO-friendly blog is a good add-on. It packs most features you'll require. You can also schedule blog posts. Using Wix mobile app, you can publish and edit articles seamlessly.
They provide support through the support center, phone, and forum. The documentation is in-depth and articulated.
In a nutshell – it's the top choice you're new to web design.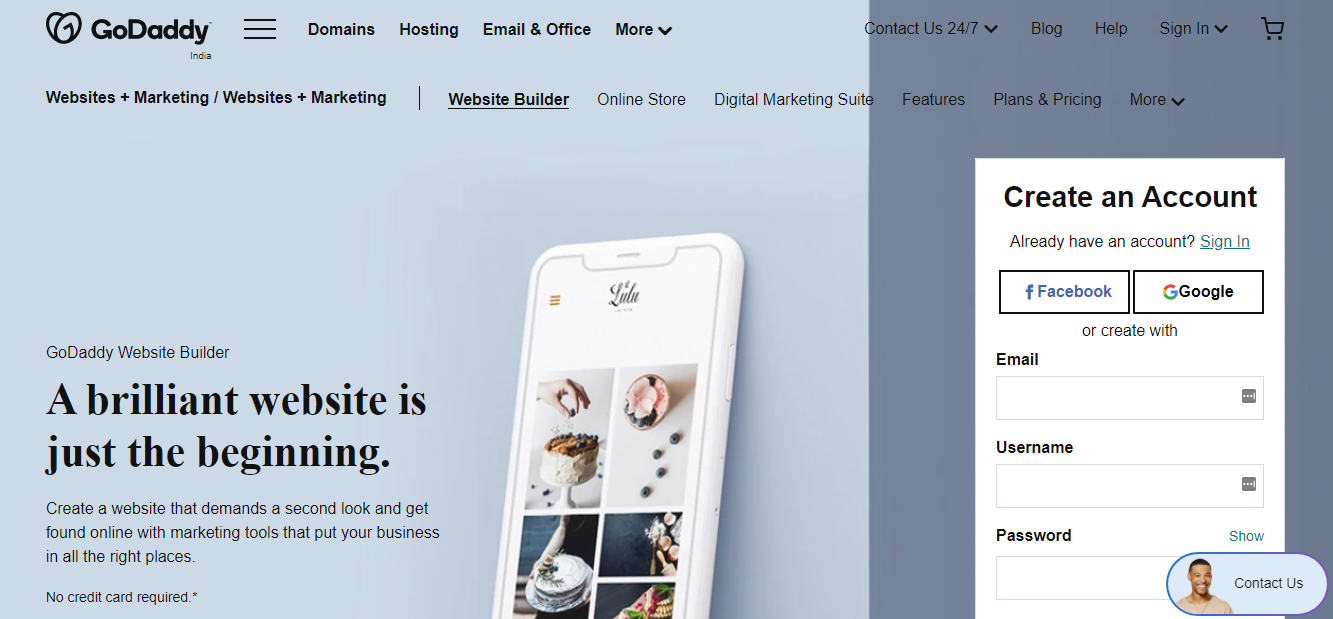 GoDaddy website builder is a beginner-friendly experience. It has four plans – starting at $10 per month. All of them get 24/7 support and web hosting. However, you don't get the domain included in that package – sold separately.
Also, if you wish to launch an online shop, you can use their eCommerce plan. GoDaddy has a one-month free trial period. That should help you decide if it's right for you.
Their editor is easy-to-use, well-structured, and can be operated from any device – desktops and smartphones. The options are very self-explanatory. You can easily add new sections, but design changes are limited since all sections have a predefined appearance.
It packs basic website functions like adding social media, event calendar, picture gallery, and so on. Although it has some direct integrations, there's no app store. They have PayPal integration, which will help with your online store.
The SEO wizard guides you throughout all SEO events – title, description, etc. However, the unchangeable order of headlines isn't good for Google SEO.
They have a simple blog feature, which comes with plenty of drawbacks. Their video tutorials are a good help, though. The GoDaddy website builder is mainly geared towards small websites. And the use of ease is the main priority.
So keep that in mind when choosing this.
Top 4 Advanced DIY Website Builders
Some DIY website builders offer more control and scalability – although they might require some technical skills. Here are some options: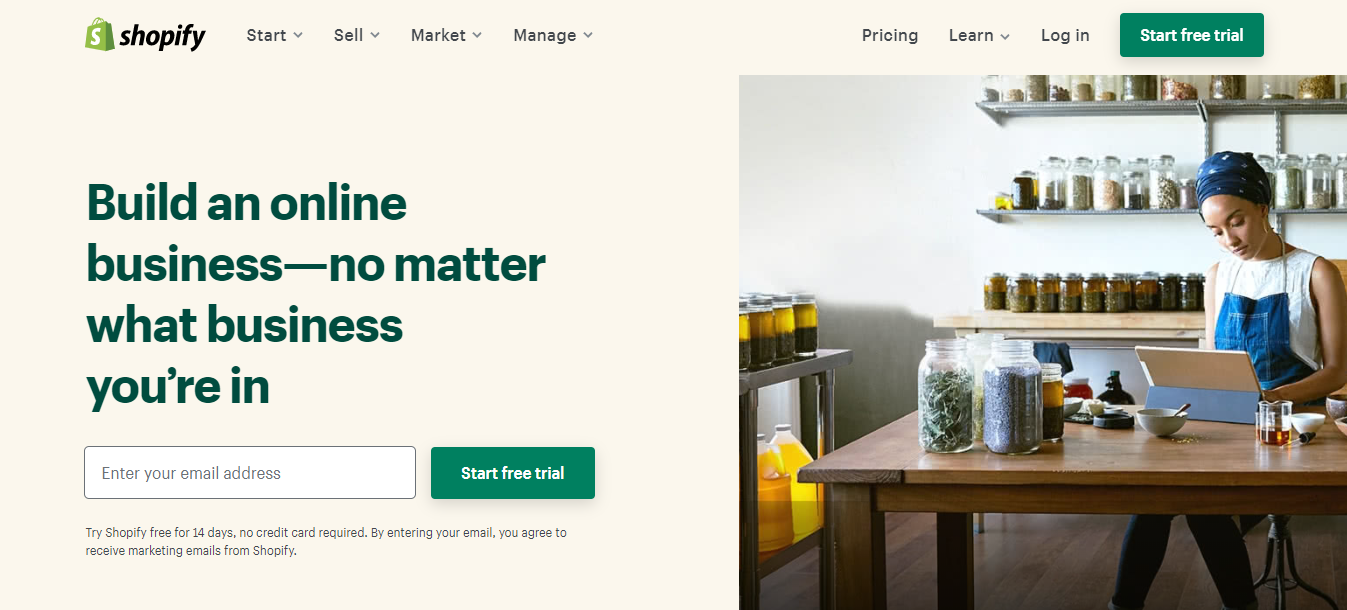 Founded in 2004, Shopify is suitable for beginners as well as pros. Plans range from $29 to $299 per month – no additional fees. It's easy to launch and manage. They offer wide-ranging customizable themes to cater to your branding needs and lets you sell digital or tangible products.
Since it's a hosted solution, you don't need to purchase web hosting or install any software. Here, you don't own the product copy, but make a monthly payment to use it. With Shopify, you get templates, email marketing tools, a blog, and a payment processor come included. However, you can also customize the store to cater to more customer requirements using additional apps.
With over 1,000,000 users, Shopify is the best DIY website builder at the moment, especially if you're just getting started.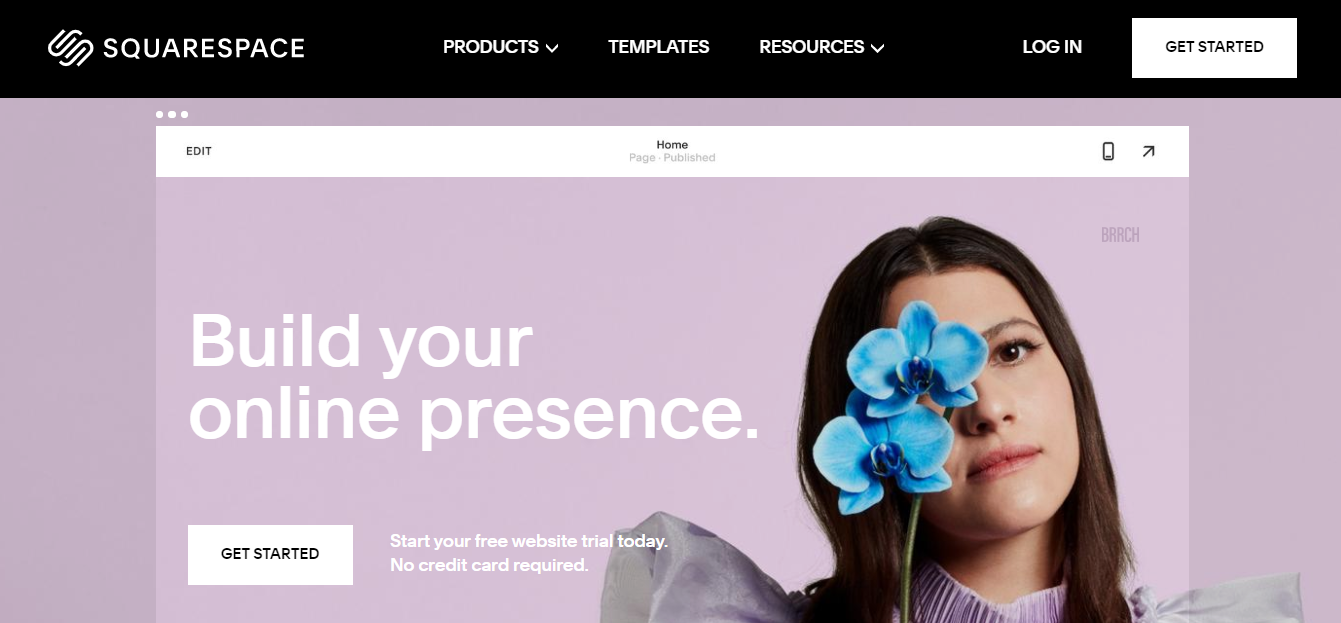 Squarespace is perfect for creating professional-looking sites. It contains top-notch designs and features, although it might take a bit getting used to, which is very worth it.
Plans start at $12 per month. With over 100+ flexible templates that adjust to mobile devices, Squarespace has an impressive market. Their customer support is strong. Live chat helps solve issues on the go, although phone support isn't available at the moment.
Squarespace comes with built-in tools for business owners, creatives, and bloggers. Some more features are: PayPal integration, G Suit Integration, eCommerce functions, SEO tools, and social media integration.
Overall, Squarespace is good for someone who loves design, and wants something unique, and doesn't mind putting in some effort. However, it's not just a pretty face. The support and security are solid as well. So it's' definitely worth a shot.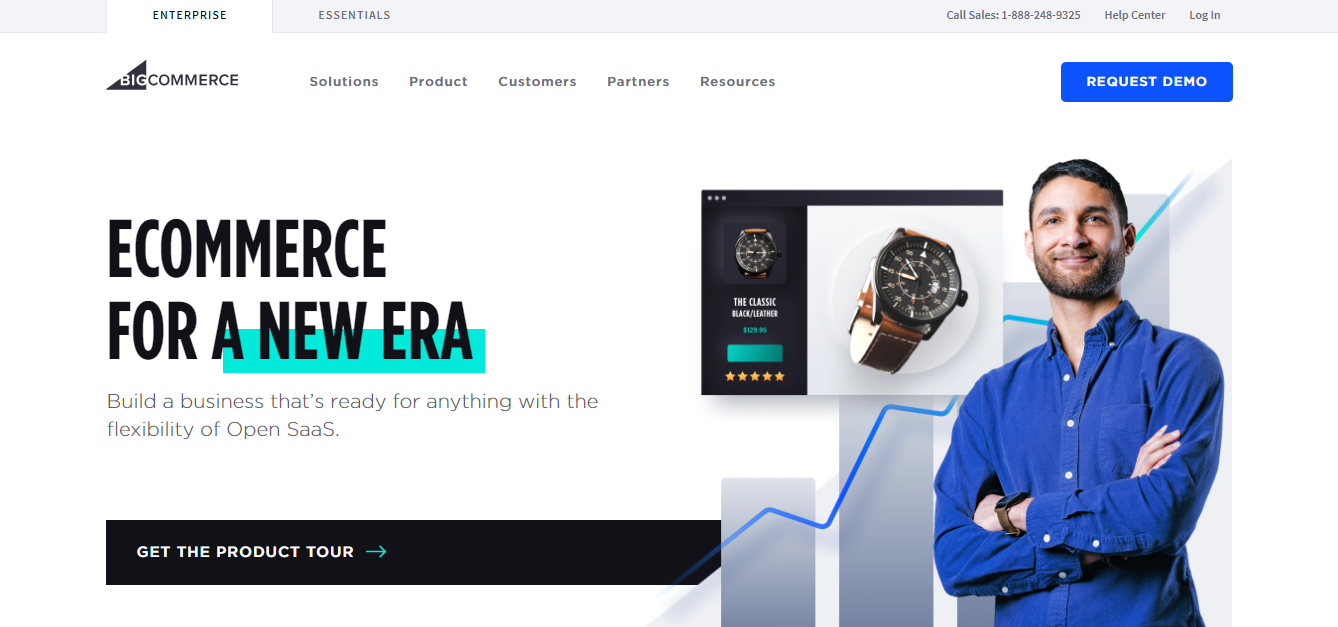 BigCommerce is a paid, 'hosted' eCommerce solution for business owners wanting to sell products online. With the wide-ranging customizable templates, you can set up professional-looking online stores.
While it's mainly for people without much designing skills, it also lets developers configure the HTML and CSS of their store. The drag-and-drop feature makes creating sites super easy.
They have PayPal integration, SEO features, full CMS, automatic image optimization, email marketing integration, product review option, and so on – making it a breeze to work with.
Their basic plan starts at $29.95 per month, Plus costs $79.95 per month, and the Pro goes for $299.95. 
However, there's another plan for larger businesses requiring big bandwidth. Here, the pricing varies, depending on business needs.
Overall, BigCommerce isn't the best suit for beginners. Due to its technical language, it makes it hard for no-designers to use it. However, BigCommerce is good for bigger and fast-growing businesses.
WordPress, the world's most popular DIY website platform, powers over 33% of websites on the Internet. However, don't confuse it with WordPress.com – which is a limited blogging platform.
Due to WordPress.org's incredible flexibility, it's a popular website builder choice. If you can imagine a website, WordPress can create it. However, unlike other builders, WordPress keeps content, functionality, and design separated. That allows data portability.
They have two editors: Visual and Text. The visual editor is a WYSIWYG, and the text one allows you to format with HTML. 
WordPress comes with thousands of pre-made templates (called themes) – free and paid. They let you use your own colors, logos, and layout combinations. Also, let's not forget over 55,000 add-ons (called plugins). If you can think of it, WordPress has a plugin for it. They also have wide-ranging eCommerce options.
As far as cost goes, you'll have to register a domain and web host. From there, it varies – whether you take paid themes and plugins or free.
All in all, WordPress is future-proof, and the possibilities that come with it are practically infinite.
Closing Thoughts
As you can see, there are several factors and providers to pick from. However, most of them fall short due to the lack of site-building features, outdated designs, or poor ease-of-use. 
However, the good website builders have somewhat broken the monopoly of web developers and designers for good – although can't replace them entirely.
This guide should help you get started. Do your research, check out the reviews, test it out, and then settle.
Which DIY website building platform do you use? Did we miss out on something decent?
Feel free to let us know in the comments.
About the Author:
Mehedi is an experienced content marketer and freelance copywriter. You can visit his blog PowerhouseBlogger or email him at: [email protected].